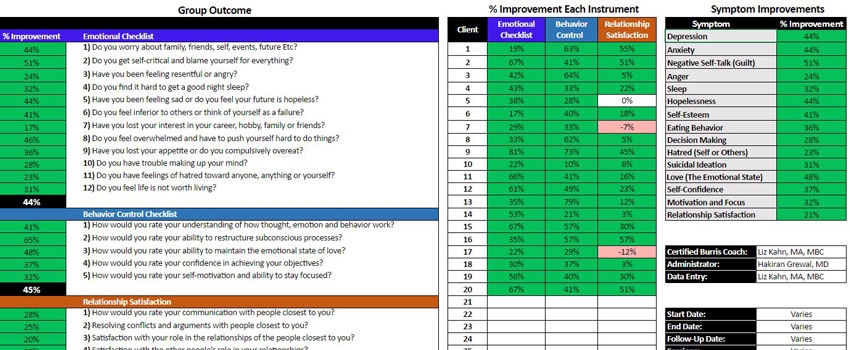 Empirically sound and measurable outcomes in Emotional Health (mental health) are terms rarely used together because there are no standards of measurement as there are in Subconscious Restructuring™. We established a measurable outcome protocol in 1990 and have refined it down to a 22 point three instrument checklist. This is how we know it is empirically sound because we have been collecting data for twenty-five years.
Without measuring an Emotional Fitness (mental health) outcome how do you know where you started, where you are going, or if you are solving any issue, which may be causing emotional distress? The answer is you do not. You and your practitioner are simply guessing. This is why Burris Institute considers measurable outcomes imperative and are mandatory for Subconscious Restructuring™ Practitioners. 
The first instrument Burris Institute uses is a 12-point "Emotional Checklist" which covers the full range of human emotion. The second instrument is a 5-point "Behavior Control Checklist" that enables the client to grade the coach and makes the coach aware of any issues, which may have been misunderstood by the client. The third instrument is a 5-point "Relationship Satisfaction Scale" which is a system of measurement for how you communicate and relate to people closest to you. People skills can outweigh intelligence so we consider the Relationship Satisfaction Scale to be a very important piece of any measurable outcome equation. 
The most important questions when implementing measurable outcomes in Emotional Health (mental health) are what will be measured, why will it be measured, how will the data be generated and what definitions will be used to establish this framework? The definitions used to build a measurable outcome framework are at the forefront. The question is what must initially be defined?
Definitions
The efficacy of any treatment is dependent upon constants, which are measured and changed. The constant in Emotional Health (mental health) is the emotional state of the client. This is the single reason anyone will seek out a psychotherapist, psychiatrist or coach. This is why behavioral epidemiology (behavior cause and control) must be defined before a solid framework for producing measurable outcomes can take place. You can see the Burris Institute breakdown for this definition here.
After definitions for behavior, cause, and control are established we can break down the three questions, which establish a framework necessary to have a credible solution for all behavior disorders.  
What is measured?
This question is at the top of the list because it would not make any sense to produce a measurable outcome if it had nothing to do with the primary issues you were attempting to correct. Based on the definitions initially established and the fact that emotion drives behavior, emotion is the clear choice of what to measure.
Why is it measured?
Measuring the full range of emotion is simply not enough. Burris Institute has identified the critical emotions, which constitute the highest and most consistent levels of emotional distress, and how they correlate to unwanted behavior. This is supported by many other researches.
How are the outcomes generated?
There is only one person who knows how emotionally distressed they are or if they have improved. You may have guessed it is the client. This is why the client must generate the baseline and the outcome. One must always question a subjective assessment from a practitioner in regard to a client or a testimonial from a client in regard to their practitioner without any hard data which indicates their outcome.
The use of Emotional Measurement in mental health has far-reaching implications beyond just indicating whether a client is getting better. When used at every session the practitioner knows exactly where to start with a client and is able to effectively address the most critical issues. In regard to the increasing civilian and military suicide rate measuring the emotional state of a client at every session would at minimum tell us what the emotional state of the client is as if they completed suicide. Currently, we have no such information unless a Certified Burris Coach was involved in the treatment.
About Kelly Burris, PhD, MBC
Kelly Burris has defined 'Normal' in an industry, which only defines broken or disordered. He is the developer of the empirically sound Subconscious Restructuring™ process and founder of Burris Institute. With over 150 medical references Subconscious Restructuring™ represents a scientific breakthrough in mental health and it has done this without meds, labels, or personal history.
As part of the Burris, ecosystem coaches can manage, track and interact with current and future clients after certification on BurrisConnect.com. This same ecosystem enables corporate, military, and educational entities to supervise and monitor the performance of their internal Subconscious Restructuring™ (mental health) infrastructure in the cloud.